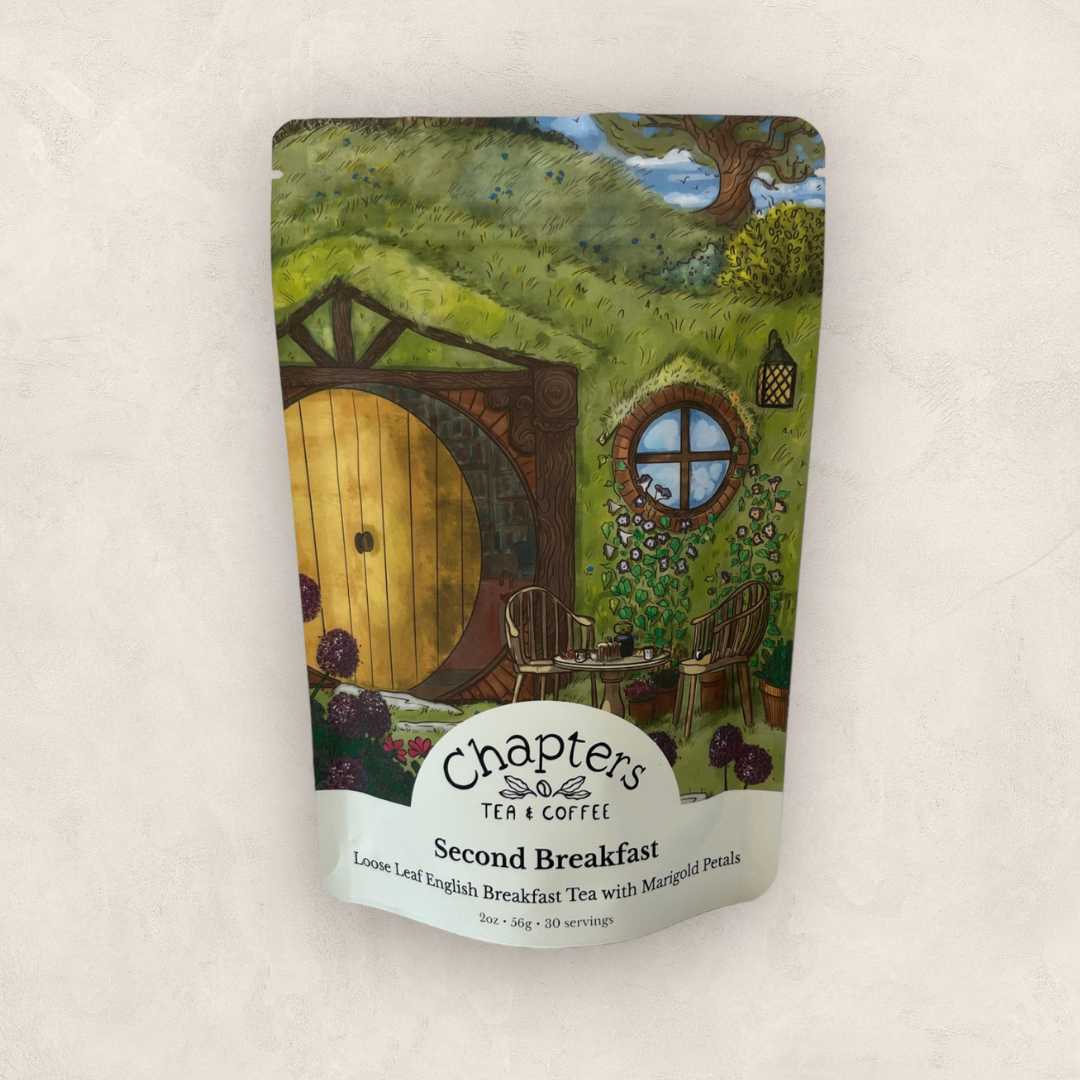 $15.72
Regular price
$18.50
Small batch hand blended English breakfast tea with Marigold petals. Perfect for breakfast, second breakfast, elevensies, luncheon, and afternoon tea. Enter our fan drawn rendition of a realm where friendship, nature, and the simple pleasures of life come first. Inspired by, but not affiliated with, our favorite series with a ring.
Ingredients: black tea, marigold petals
Caffeine: medium
Kosher · Vegan · GMO-Free · Gluten-Free
30-45 servings
Second Breakfast
$15.72
Regular price
$18.50
What does Second Breakfast taste like?
A robust, full-bodied English Breakfast tea flavor that is both rich and invigorating.
Why 30-45 servings?
Each 2oz handcrafted pouch of Second Breakfast contains around 45 teaspoons of tea. That's 45 servings if you do the world standard 1 teaspoon in an 8oz teacup.
Most people in the U.S. use larger mugs made for coffee, though. For those, we recommend 1.5 teaspoons. You still get at least 30 strong servings in your favorite mug :)
What is your Moneyback Happiness Guarantee?
If you're unsatisfied with your order, we'll refund it. No returns needed. It's that simple.
Steeping Instructions
(For iced tea, do half the amount of water and then pour over ice.)
Region
Tea From: Sri Lanka / Kenya / India
Regions: Nuwara Eliya, Dimbula, Uva / Nandi Highlands, Kericho / Nilgiri
Benefits of High Altitude Grown Tea
Exceptional Flavor & Aroma:
Our high-altitude teas are grown in cooler climates, allowing the tea plants to develop slowly and concentrate their flavor. The result? An extraordinarily rich, complex taste that you won't find in an ordinary big box store tea.
With limited production due to difficult terrain and growing conditions, high-altitude teas are harder to come by. This exclusivity adds to the desirability of every cup you steep.

Most of our high-altitude tea is carefully hand-plucked. Plucking luxury tea is a highly specialized skill that produces superior teas and provides good jobs to locals in the region. Reliance on hand plucking means that thousands of jobs are not replaced by machine. Japan is an exception. There, luxury teas are harvested by machine.
Scientific studies suggest that these teas contain higher levels of beneficial antioxidants compared to lower-altitude varieties.

Sustainably Grown, Ethically Sourced:
We're committed to protecting the delicate mountain ecosystems where our tea is grown. Sustainable farming practices ensure we respect the environment and support the local communities that make our exceptional teas possible. Hand-plucking requires very little fossil fuel, and releases virtually no CO2.
Artisan Experience
Our hand plucked full leaves provide maximum flavor and value. All are small batch blended and then packed by hand, ensuring attention to every single leaf before we send it your way.

Artist Illustrations
Each pouch features hand illustrated artwork drawn by independent artists. The soft touch adds a layer of elegance, and the premium thickness keeps your tea it's freshest.

Support Small Business
We're a small Michigan based business focused on creating the best possible experience for our community and customers.
Mental Health Awareness
5% of net profits are donated to Active Minds, the national leader for young adult mental health advocacy and suicide prevention.